WHO ARE HOT TUBS ROCK?
We are Angharad and Joe.
We like to have fun, which is why we work in the fun business of hot tubs (and party tents, but more to follow about that later!).
But we also like to get the job done efficiently and properly.
We know what we're doing, and we do it well!
ANGHARAD ROCKS
Angharad happens to be a qualified civil engineer. But she is also an organiser-extraordinaire, and she keeps a tight ship to ensure you get your hot tub when you want it.
She also loves to support other local businesses, but more about that in a bit…
Angharad likes people more than she cares to admit, but will happily admit to loving dogs even more!
JOE ROCKS
Joe is the technical department at Hot Tubs Rock. He is an NICEIC approved contractor and has been an electrician for many years.
He brings his knowledge and expertise to every installation, so you can trust that your hot tub has been safely installed.
Joe loves to meet cats while installing hot tubs.
Both Angharad and Joe will always welcome a cuppa and a piece of cake during a hot tub install.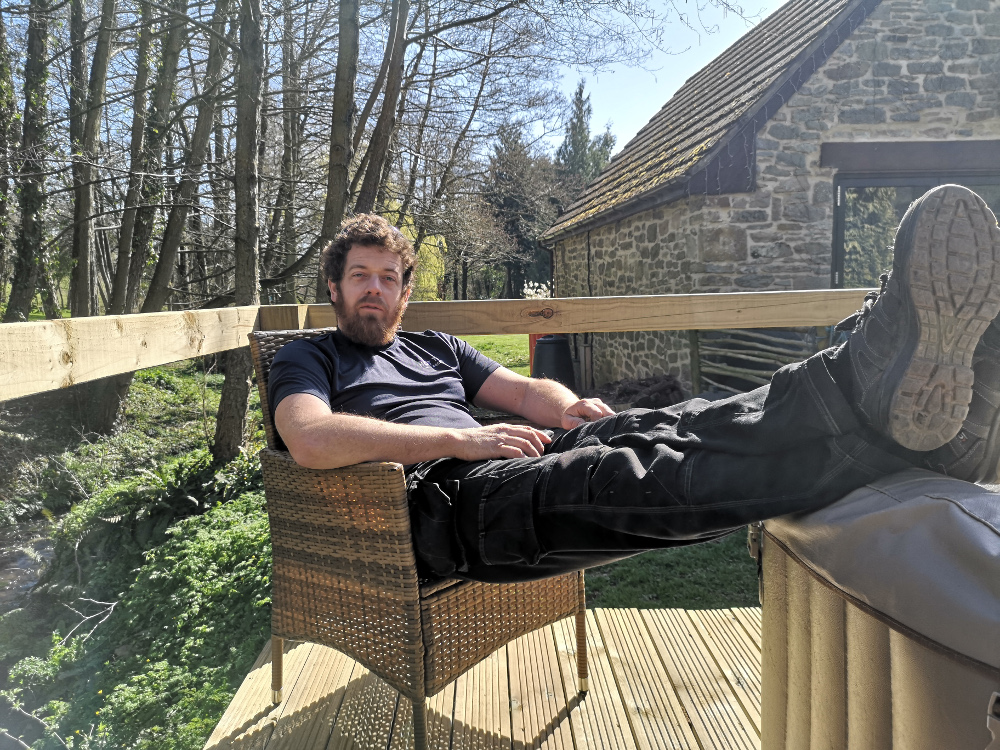 JM ELECTRICAL
Joe's other business is JM Electrical.
JM Electrical has been trading for over 10 years, and can handle all aspects of electrical work. Joe is registered with the NICEIC as an approved contractor, so you can be sure his work will always be a safe and legal installation.
You could get Joe to install an outdoor socket, particularly useful if you're thinking of buying a hot tub. An outdoor socket is not only convenient, it's also much safer than trailing cables across the floor and through windows. The sockets are waterproof and lockable, so there's no access to any live parts when items are plugged in and the cover shut. Joe installs a double socket as standard.  As well as your hot tub, there are many other uses to an outside socket including mowing the lawn, jet washing the patio… the choice is yours!
WHAT DO YOU GET WHEN YOU USE HOT TUBS ROCK FOR HIRE OR PURCHASE OF A TUB?
Five years' experience
BISHTA trained staff
A company that you can trust
People who care about your experience
Quality hot tubs
Fully insured Limited company
A chemical pack with verbal and written instructions
Hundreds of FIVE star reviews
LOCAL BUSINESS ROCKS
We are passionate about local businesses, and giving them a voice.
We are very excited to be leading a new initiative to support the local business community.
It's called Local Business Rocks, and whether you are a local business or like to support them, please visit the Local Business Rocks website to find out more.